At Eye 1st Vision Center, we make it easy to protect your eyes and express your style at the same time. Our collection of designer sunglasses includes a variety of shapes, sizes, and styles, and all of our tinted lenses can be customized for your corrective needs. Learn why sunglasses are so important for your overall eye health, and how you can find the perfect pair at our Sandy Springs optometry center.
Protect Your Eyes with Sunglasses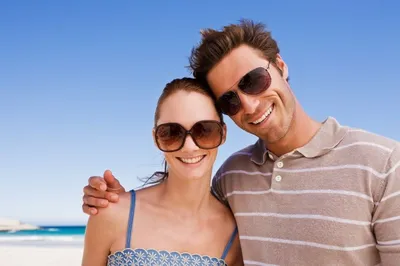 Sunglasses are more than just fashion statements. Every member of your family needs year-round sun protection, even infants. Whether you wear contact lenses or have perfect vision, sunglasses are the most effective way to protect your vision and prevent UV damage. They provide the following benefits:
Absorb or reduce UV rays – Many sunglasses offer full or partial UV protection

Prevent cataracts – Cataracts form over time due to direct UV exposure

Prevent wrinkles – Sunglasses prevent you from squinting in direct sunlight, a habit that may cause wrinkles around your eye area

Reduce glare – Our sunglass options include lenses with glare-resistant coatings and polarized lenses, which reduce visual impairments while driving

Prevent retina damage – Bright, intense sunlight can damage your retina and affect your vision

Reduce your skin cancer risks – Sunglasses also protect your sensitive eyelids, a common site for skin cancer

Prevent inflammation – Your eyes can actually get a sunburn (photokeratitis) without sufficient protection; this temporary condition is painful and inconvenient, and sunglasses help prevent it
Our optometrist is happy to help you find a pair of sunglasses with the corrective and protective features you need.
Browse Our Designer Sunglasses Available for Surrounding Communities of Sandy Springs, Marietta, Brookhaven, Roswell, and Atlanta, GA
At Eye 1st Vision Center, we want to help you improve or protect your vision in style. Browse our collection of designer sunglasses to find a pair that suits your face shape, fashion sense, and corrective needs. We carry all the hottest sunglass styles, from metallic aviators to throwback tortoiseshells, and make sure our inventory is always up-to-date with the latest seasonal collections.
As you browse our selection of sunglasses, remember: darker isn't always better. If your lenses are too dark, your sunglasses will dilate your pupils and increase the amount of sunlight exposure.
Customize Your Own Prescription Sunglasses
If you have a prescription, we will help you choose and customize a pair with prescription corrective lenses. We also offer special sunglasses for certain eye diseases and conditions, including special coatings that resist glares. Schedule an eye exam and vision test if you're not sure what your current prescription is, or if you're curious about finding the right protective eyewear for your particular eye condition.
If you need a pair of prescription sunglasses, get started with a vision test at our optometry center. We serve Sandy Springs or the surrounding areas of Marietta, Brookhaven, Roswell and Atlanta, GA.
Call (404) 252-1702 to learn more about our sunglasses or make an appointment with one our Atlanta optometrist.